Check out our Ault Park Concours d 'Elegance Photo Gallery!
Ault Park Grand American Classics
Concours d' Elegance - Cincinnati, Ohio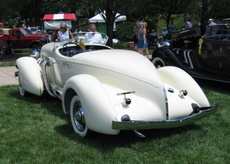 Rarely seen American Classics such as Auburn, Cord, Duesenberg, Packard, Lincoln, Cadillac, Chrysler and other Classics were the featured marques at this year's event. The display of these beautiful cars was heightened by an exhibit of fine automotive art from local and national artist. Also featured was a special display of Historic Indianapolis 500 Racing Cars and Micro Cars. Janet Guthrie was Honored as this years Grand Marshal. Ms. Guthrie was the first women to qualify and compete in the 1977 Indianapolis 500.

This year's event celebrated it's 31st year. The Cincinnati, Ohio Concours d 'Elegance dates back to 1978. It was started by Bill and Helen Williams. The idea was to create a Pebble Beach Concours style event. That first event featured one hundred and five cars that were exhibited in four classes – Antique, Classic, Milestone and Special Interest cars. John Ruthven, famed wildlife artist, donated one of his paintings of a Classic Car to that year's event. The Concours was originally held in Indian Hill. As the event grew it was relocated to its current Ault Park location in 1996.

This year's event schedule consisted of a Friday evening Grand Gala Welcome Party at the newly restored Greenacres Arts Center, Indian Hill. The Concours Cars participate in a Countryside Road Tour on Saturday and Sunday is the Concours d' Elegance. The Concours is open to the public (with a paid admission).

The Ault Park Concours d' Elegance has continued to grow in size and stature to become one of the most respected Concours event in the United States. The Proceeds from this event benefit the Arthritis Foundation, Ohio Valley Chapter.

If you did not make this year's event, there is always next years. I highly recommend this one. Please visit our Ault Park Photo Gallery.

Visit: www.ohioconcours.com The Ault Park Concours D' Elegance is one of the most anticipated classic car show events in the United States.

June 2008