Check out our Auburn Cord Duesenberg Weekend Photo Gallery
Worlds Greatest Classic Car
Show and Festival

Auburn, Indiana August 28th - September 2nd 2008
The Auburn Cord Duesenberg Club celebrated their 52nd Annual Club Reunion,

Dean Kruse and his Auction Company celebrated it's 38th Anniversary of selling Collector Cars in Auburn and this was my 30th Anniversary Trip to Auburn for the Auburn Cord Duesenberg (ACD) Show and Festival. The weather seems to always be perfect for Saturdays Show in Eckhart Park. God must own an ACD car is all that I can figure. I can remember very few Saturday shows in Auburn that we have had rain.

Our Road Trip started early Thursday morning. The Auburn was loaded (does not take much to fill it up), We had a full tank of gas and a half pack of cigarettes… wait, that sounds like a movie… scratch the cigarettes. We had a full tank of gas, fluids and tires checked, we were ready to go. About four – five hours of road time lay ahead of us. The Auburn left with the top up. It does not look as cool that way, but it does make four hours at 75 mph a little easier. The car with the top down as you well know is a WIND MACHINE. I guess back in the thirties people were smaller, therefore sitting much lower behind the Speedsters cut-down windshield. They most likely were not driving at today's interstate speeds. Probably the only guy driving 75-100 mph back then was Ab Jenkins.

We arrived in Auburn, Indiana without any problems. First stop was 1600 Wayne Street to visit the Auburn Cord Duesenberg Museum. Things were quite there, so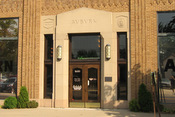 we cruised over to the Kruse Auction Park. I wanted to hit the Swap Meet in case there was something there that was calling my name. I am glad that there wasn't because I have precious little cabin space in the car to take anything extra home. We combed the vendor spots and then headed to the auction area. It looked like it was going to be a Great Weekend. We left the park, grabbed dinner and went downtown to historic Auburn Square. At the corner of Main and Ninth Street is the Historic Auburn Hotel. I do not know what year it was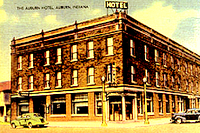 built but I am sure it was operating as an "old hotel" when E.L. Cord and Gordon Buehrig lived in Auburn. The Auburn Hotel is owned by an ACD Club member. It use to only be opened Labor Day weekend for the clubs reunion, but I believe it is open year round now. I do know that it is really tough to get a room that weekend. I have tried, but have never been so lucky. Maybe someday… It's not that it is plush or even nice. It is just Cool. It reaps Nostalgia with it's 1930's looking lobby decor and lighting. No air conditioning here! This is where the Real Die-Hard ACD Guys stay. The hotel guests get to use Ninth Street to park and display their Auburns, Cords and Duesenbergs. At night the hotel is the official "Un-official" meeting place for all of the clubs members and their cars. The cars are fantastic to view under the street lights. The car party goes late into the night. You really do not sleep much during this event, but you can do that at work when you get home.

Early Friday Morning is the ACD Clubs Swap Meet, members only, for Auburn Cord and Duesenberg parts. It is held in the side parking lot of the ACD Museum.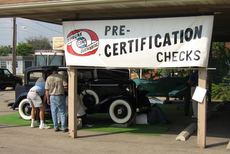 It starts at 6:30 am and goes till 2:00 that afternoon. There are Tech and Judging Seminars offered throughout the day at the Museum along with ACD Pre-Certification Checks for authenticity. The Museum parking lot has a continuous flow of Classic ACD Cars in and out most of Friday. The Kruse Auction runs from Thursday through Monday. The Auction Park opens early in the morning and runs till late at night. Like I said you do not sleep much in Auburn. The Auburn Hotel remains the evening Hot Spot through Saturday night.

Eckhart Park, named after the Eckhart family who founded the Auburn Automobile Company, is where you want to be for the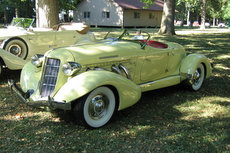 Clubs Saturday Car Show and Judging. This is a member only event (Automobile ownership is not a requirement to join the ACD Club). You can expect three - four hundred Auburns, Cords and Duesenbergs to turn out for the show. Bring your Camera! The show ends around noon and the cars line up by make and roll into town to join the Auburn Cord Duesenberg Festival's Parade of Classics. The parade ends downtown at the Court House. The ACD cars park throughout the downtown area where thousands of anxious people have been waiting for the arrival of the ACD cars. The entire 5 day event is estimated to draw 250-300,000 car enthusiasts. It does not take long to understand why this is billed as the Greatest Classic Car Show and Festival in the World. If you have never attended the ACD Festival you must do so.

Sunday morning came early. We checked out of the Non-Historic Non-Nostalgic, Not so Cool, but Plush and Comfortable Courtyard Marriott after filling up on the Managers Special Breakfast. I did buy a few things from the Museum, but I was able to squeeze them into the Auburn. You would think that something would fit in that Boattail rear end wouldn't you... With Top Up and lots to talk about we hit I-69 and started our Road Trip back to Reality…

Be sure to check out the Auburn 2008 Photo Gallery. If you survived reading the above, the pictures will be easy.

Later Guys!

Mark

Start planning your trip to the Auburn / "What, Where and When..."

Auburn Cord Duesenberg Club / www.acdclub.org

Auburn Cord Duesenberg Festival / www.acdfestival.org

Auburn Cord Duesenberg Museum / www.acdmuseum.org

Kruse Auction / www.kruse.com


August /September 2008