Check out our Glenn Pray 2005 Open House Photo Gallery
Gone to meet my Maker
Well, not actually my maker... I went to to see my Auburn 866's maker, Mr. Glenn Pray. We, as in my old buddy Dave and I, just returned from a "Top Down Wind in our Face" Road Trip (1500 miles) to and from Broken Arrow, Oklahoma. That is where Glenn Pray moved the Auburn - Cord - Duesenberg Company after he purchased it and all of it's remaining parts stock back in 1960.

Just a quick note; when the Auburn Automobile Company closed it's doors in 1937 a business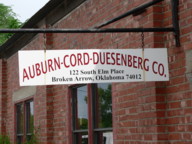 man by the name of Dallas Winslow purchased the company to sell the remaining ACD parts inventory to owners and restorers of the existing cars. Mr. Pray was busy restoring Cords back in the mid to late 50's and was buying a lot of parts from Dallas Winslow. Glenn thought that it would be pretty neat to buy all of the ACD parts inventory. That is a story all in itself, but anyway he did buy the company, moved "All" of the parts from Auburn Indiana to Broken Arrow Oklahoma and started selling replacement parts for some of the most beautiful cars ever produced.
The parts business was doing so well for Glenn that in 1963 he wanted to start building Cords again. So in 1963 he did just that, the Cord 8/10's were born. He wanted to do the same thing with the Auburn 851 / 852 Boattail Speedsters. Planning and engineering for it started in 1966, the 1st "Continuation" Auburn Speedsters were offered for sale in 1968. He built Auburns through 1981. Glenn produced over 350 cars from 1963 through 1981. Glenn never claimed to be reproducing cars that is why he referred to his cars as "Continuations" rather than copies or reproductions. All of his cars were powered by modern drivelines and chassis'. His Speedsters were fully optioned with Leather, full instrumentation, power steering, power brakes, heater, stereo radio's with 8 tracks and most cars were equipped with air conditioning.

There is a b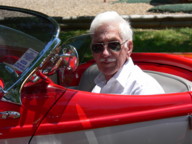 ook about Glenn Prays life and his ACD Passions due later this year. It is being written by Josh Malks and will be published by Automobile Quarterly. Last year there was a documentary film "Prays Passion" released. It details Glenn's interest and involvement with these Great Cars and the story behind his New Cord and the beginning of the New Auburn 866 Speedsters. It is well done and very informative. The Pray's passion DVD's are autographed by Glenn and are available for sale in our "Swap Meet" section of the website.
Anyway back to the Road Trip... Glenn had Open House the weekend of May 13-14th at his Auburn Cord Duesenberg Factory in Broken Arrow. Glenn is 79 years old now and is still totally involved in the everyday activities at the factory. Continuation Cars are no longer being built but parts are still being sold along with limited restoration work being offered.
The factory is really something to see. Glenn has his personal collection of "Stuff" in two rooms. His interest in collecting is much broader than ACD cars only. His collecting interes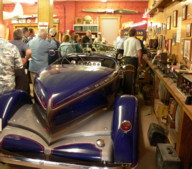 t includes Radios, Telephones, Televisions, Airplanes (Yes, Airplanes... Antiques of course), Juke boxes, Player Music Boxes, Advertising Memorabilia. Not only does Glenn collect these items, but he is capable of maintaining and servicing everything he collects. He is quite a unique person. The factory "Parts Room" door is like a time machine. All of the parts bins are straight from Auburn, Indiana. The shelves and drawers are all still wearing ACD part numbers. I am sure that most of the Really Desirable parts are long gone, but believe me there is still a lot of really Cool Things still there.

Friday was open house at the factory and a small swap meet in the parking lot. There were road tours offered throughout the day for local museums and attractions including the hanger for Glenn's planes. Later that night there was a reception at the Hosting Holiday Inn. There were a lot of Great old stories traded between Current and Past ACD car owners and employees at the factory. A 10 minute movie from the 1956 ACD meet in Auburn, Indiana was shown, that was really neat to see.

Satur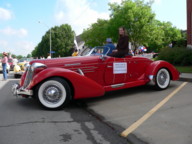 day morning started out with the ACD cars taking part in the Rooster Days Parade, which is definitely Hometown USA. There were Clowns, Marching Bands, lots of Fair Food and Plenty of Pretty Young "Chics" competing in the Ms. Chic Rooster Day Beauty Contest. Yes, being the Good Guy that I am, I offered the services of my Auburn to drive one of the Pretty contestants (Meghan, a Senior from Broken Arrow High School) through the parade. I am proud to say that Meghan was the winner of the Ms. Chic pageant. After the parade all of the cars ended up at Central Park for a Car Show. The weather was perfect. That night there was Dinner and Drinks at the Holiday Inn with Glenn and his Family. More stories and good times were had... See our Glenn Pray Open House photo's from this trip.
A lot of work and planning went into this weekend I am sure. Everyone that I spoke with had a Great time, I know that I sure did. I am already looking forward to next years 2006 Open House.



Check out our Glenn Pray 2005 Open House Photo Gallery

2005 Road Trip article rescued from our old "Milestone Motorcars" website / May 2005