Check out our Meadow Brook Concours 2008 Photo Gallery
2008 Meadow Brook
Concours d'Elegance
The Meadow Brook Concours dí Elegance is considered to be one of the finest automobile eventís in North America. This prestigious event is held each year against the back drop of Meadow Brook Hall. Meadow Brook Hall i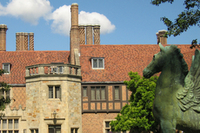 s often referred to as Americaís Castle. The 110 room, 88,000 square foot mansion was completed in 1929. The home was built by Matilda Dodge at a cost of four million dollars. Matilda Dodge was the widow of one of the co-founders of the Dodge Motor Car Company. The Tudor Revival styled home originally sat on 1500 acres. In 1957 the home and two million dollars was contributed to found what is now, Oakland University.


This yearís show celebrated its 30th Anniversary. The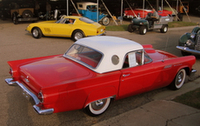 event gets bigger and better each year. Destination dí Elegance is a new addition to the venue. This is the event to attend for fabulous Bistro foods and Wine tasting seminars along with cooking demonstrations all while unique shopping is being provided on the Greens. Yes, these are the activities that keep the "better half" busy... I mean Happy. That gives us Guys, a chance to attend the RM Collector Car Auction, possibly bidding on or dreaming about, bidding on the cars or we can walk the paddocks at the Waterford Hills Raceway and watch Vintage Automobiles Race. The Waterford Hills Historical Races is a companion event held the same weekend each year as the Meadow Brook Concours.
The Concours is Sunday. Over 15 thousand spectators attend this celebration of automotive power and beauty. This year over 225 invitation only cars from 36 states were displayed on the rolling lawn of Meadow Brook Hall. The cars are on display while being judged. The awards presentation starts at 3:00 in the afternoon. This is a great opportunity to see and listen to these acclaimed cars in motion as they receive their awards.

General Motors, as part of their 100th Anniversary Celebration, shared a portion of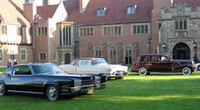 their automotive treasures, Concepts Cars from their GM Heritage Center. Some of the legendary Bill Mitchellís best works were displayed for everyone to enjoy. These were the cars that were secretly designed in the GM Tech Centers basement, known as ďStudio XĒ. There was also a Special Jet Age of Designs showcasing some of GMís Harley Earl's work from the 1950ís. Cadillac was one of the featured Marquee Cars this year. Cadillacís from the 40ís, 50ís and 60ís, again part of the GM Heritage Center, were displayed around the entrance to Meadow Brook Hall. It was very impressive. GM, at one time, set the Standard of the World with Cadillac.

Along with the Concours there is a fantastic display of Super (Sports) Cars that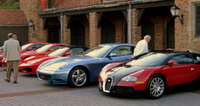 are displayed in the garage and carriage house paddock area. You can view the Timeless Italian Designs of yesterday and today with Ferrari, Bugatti, Lamborghini and Maserati. The Invitational Artist Exhibit is where you will find Art that Moves You. Renowned artists from around the country display and and offer to sell their work. This Artist Exhibit is unique in that it is a judged event. America's Castle, Meadow Brook Hall, is open during this event for tours. This is a must see World Class Event. Make plans to attend next yearís show. Visit the Meadow Brook Concours website, www.meadowbrookconcours.org to plan next years event. You can read more about Meadow Brook Hall estate at the website, www.meadowbrookhall.org

Check out the Photo Galleries from this years event.

August 2008