.
Check out the Photo Gallery from this years event
Mecum's Indianapolis
Collector Car Auction
Our Road Trip to the 22nd Annual Mecum Spring Classic Auction started out as usual... drive to the nearest feeding establishment that offers a Good Breakfast and Coffee. Once that was accomplished we drove north. The Mecum Auction was held at the Indianapolis State Fairgrounds again this year. Before experiencing any Auction Action we took a detour via the Spring Hoosier Auto Show and Swap Meet being held at the Marion County Fairgrounds. It is located on the west side of Indy, not far from the Mecum Auction. The Fall Meet is much larger, but the Spring Meet still requires 3-4 hours to see it all. I purchased a couple items for my cars and snagged some parts and collectibles for resale. You never know what you will find on that table or tarp in the next row... that is what keeps swap meets interesting.

With the new treasures loaded into the trunk and back seat we were off to the Mecum Auction. My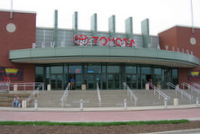 stomach soon reminded me it was time to eat again. We decided to get closer to the auction before stopping for lunch. As I was driving, half looking for Food and half looking for the Auction site, the gated entrance to the State Fairgrounds was suddenly right in front of me. I panicked, I began fantasizing about all of the great cars that were to be auctioned off that day, I forgot all about eating and immediately whipped the car into the Fairgrounds driveway following the Mecum Auction signs. We parked and took a courtesy tram to the front doors of the Auction Arena. Several nice collector cars graced the Auction entrance. There was no shortage of 2010 Camaros and New Challengers parked throughout the Preferred Parking areas.

We purchased our $10 General Admission tickets and walked into the Exposition Hall. Large banners hung from the ceiling depicting some of the most histo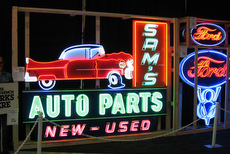 rically significant Muscle Car ever built. A large collection of Neon advertising signs, hundreds of feet long, lined two walls awaiting their turns to be offered for sale. A special display of Shelby built cars was assembled in the Auction Arena. The selection and quality of Shelby American Automobiles was extremely impressive to say the least. Winning Bids for some of these cars give some insight as to just how significant these Cobra's, GT40's and Shelby Mustangs were. A one of a kind 1967 Shelby GT500 (EX500) convertible was hammered sold at $800,000. A 1966 427 S/C Guardsman Blue Cobra garnered a winning bid of $1,165,000 which happened to be the highest winning bid cast during this event. CSX 2121, a 289 Cobra was a no sale with a bid of $525,000. The Rick Kopec 1965 Essex Wire Shelby Mustang was bid to $500,000, it too was a no s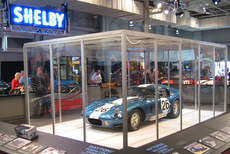 ale. The 1964 Cooper Monaco King Cobra did sell for $600,000. The Star of this years show was Daytona Cobra CSX 2601. It managed a bid of $6,800,000 but that was not enough to meet the sellers reserve. Pre-auction estimates for this car ran as high as $12,000,000. This particular Daytona Cobra was one of six built. It has won more races that any of the other 5 cars. CSX 2601 has been fully restored to it's former number 26 Reims livery. In 1965 Bob Bondurant and Jo Schesseer captured the coveted FIA GT World Manufacturers Championship for the United States and Carroll Shelby in this car. Two more 427 Cobra's (red ones) sold at that magic $1,000,000 mark. As a past SAAC (Shelby American Automobile Club) member it was like a religious experience seeing all of those beautiful Shelby built cars gathered in one place. Being a devout follower of Auburn-Cordism I was able to fight these temptations. My wife reminded me that not having any money made the fight that much easier.

After fending off the Shelby Demons I realized that I had forgotten to get something to eat. That hardly ever happens. It did not take long for my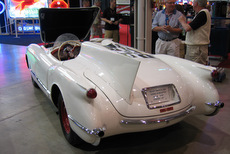 keen Survival Senses to kick it. I saw a sign that read FOOD... Wow, another near Death Experience avoided. With renewed energy we walked the remainder of the cars that were awaiting their chance to sell in this 5 day auction. Ohio's Bob McDorman, Chevrolet Dealer and Collector, had fourteen cars consigned. The Duntov '55 Corvette "Test Mule" was one of the more exciting cars that he offered for sale. It sold for $310,000. A rare 1969 L88 Corvette in Fathom Green was a No Sale at $425,000. The car was showing an original 12,167 documented miles. Some of the other Historical Chevy's offered included the prototype 1965 Z16 SS Chevelle which I believed belonged to Dana Mecum. Unlike the 201 production cars this one was built on a non-convertible frame. The Camaro Cherokee was a welcome sight. I had read about it but had never had the opportunity to see it. The Cherokee was a Bill Mitchell GM Styling Car. It started out as a 1967 Camaro RS/SS Convertible. It was pulled from the Norwood assembly line and Bill Mitchell took it from there. At this time I do not know if the car sold or not.

You can go to www.mecum.com to gather all of the auction results. Take the time to sign up as a Mecum Infonet Member, it cost nothing but it allows you to gather all of the auction results not normally published on their website. Plan on spending some time on this site. There's a lot of interesting information and fantastic photo's of upcoming and past auction cars.

After close to 9 hours of looking at auction cars and combing the swap meet earlier that day it was time to hit the Road Back to Reality.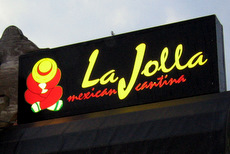 I still had about 2 1/2 hours of driving ahead of me. Guess what... We needed more food. We were told about a unique dining and shopping area not far from the Fairgrounds, Broad Ripple Village. We tried a little Me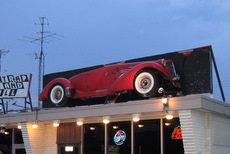 xican Cantina known as La Jolla. It seemed to be quite popular from the crowd at the door. There was still some outdoor seating available which was just fine with us. The El Foodo' and Margarita's were El Goodo'. With appetites satisfied one more time we were traveling south on Keystone Avenue looking for I-65 south. Checking out the sights along the way a local bar caught my eye with it's special roof top display. Mounted on the front of the Bar was an Auburn Speedster, rather a right hand slice of one. After a quick 180 degree "Bat Turn" we had the car turned around and heading back to the Bar. It looked like the red Speedster had been there for sometime. From the ground my best guess would be an Elegant Motors 856 car. I took a few pictures, unfortunately skipped the Happy Hour and was on the Road again.

Later Guys!

Mark


Be sure to check out our 5 pages of Mecum Auction Photo's

May 2009