.
Our archived Auburn Cord Duesenberg writings

The website began January 2008
January 2008 / www.auburnspeedsters.com begins
The Man Who Brought Legends to Life

Glenn Pray's book, "The Man Who Brought Legends to Life", has gone into it's third printing. This new edition has added a collage of photo's depicting Glenn, his family, his cars and his airplanes to the inside front and rear covers. The Book is a Great read for anyone with an interest the Glenn Pray Story; his purchase of the Auburn Cord Duesenberg Company and putting the Cord and Auburn Speedster back into production. These Books are now available on our website. They are $60, includes shipping and insurance within the Continental USA. email us for your copy
February 2008 / The 1st article posted
2008 Duesenberg Torpedo Coupe delayed
The New Duesenberg Torpedo Coupe release date has been pushed back until Spring 2008. Announced in 2006, this car has received a lot of preproduction publicity. Like everyone I am anxious to see the production version and read the reviews of which I am sure will be plentiful. You can read about this Modern Duesenberg Coupe and see the designers drawing at the companies website, Duesenberg Custom Coach, www.duesenbergcustomcoach.com
Another New Duesenberg planned for a 2008 release b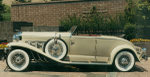 y Duesenberg Custom Coach is the Duesenberg II® Murphy Roadster. This is a recreation of a 1930's SJ styled Duesenberg with V-10 Ford running gear and all of today's modern amenities . It is being built by Advanced Automotive Technologies in Rochester Hills, Michigan. The Murphy Roadster will be available exclusively from Chuck Spielman's Only Yesterday Classic Autos, you can view their website at www.oldautos.com
June 2008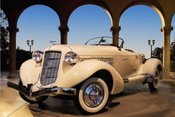 Another Success
Ault Park 2008 Concours d' Elegance
Read the review and see the pictures of this years show on our Road Trips page. American Classics were this years Marque cars along with a Great display of Historical Indianapolis 500 Racing cars. Janet Guthrie was this years Grand Marshal

Errett Lobban Cord His Empire His Motorcars: AUBURN-CORD-DUESENBERG
Book by G. Borgeson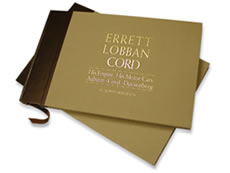 We Still Have Available, this Outstanding Automobile Quarterly Commemorative Marque Book, "Errett Lobban Cord His Empire His Motorcars: AUBURN-CORD-DUESENBERG" The books Luxurious presentation includes 280 over-sized pages containing more than 500 rare illustrations, photographs and documents

These Books are New Old Stock from 2003. They are still in their original packaging. They were priced at $198 in 2003. They have only been opened for inspection. Limited Quantities Available

On Sale! Now Just $44.95 with Free Continental USA shipping. email us to Order your copy while Supplies Last

June 2008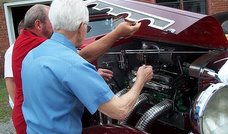 Open House
Auburn-Cord-Duesenberg Co.
Glenn Pray's 2008 Auburn Cord Show and Open House was held the weekend of June 6th and 7th. There were tours of the Factory, meetings with Glenn and displays of Auburns and Cords at the Leak Collector Car Auction and displays at the hosting hotel. I hope to get some pictures from this years event. If so, I will be posting them on the website. www.glenn-pray-cord-group.com
August 2008
AACA recognizes Second Generation Auburns
The Antique Autom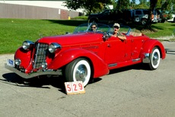 obile Club of America (AACA) starting in 2008 will now recognize Second Generation Collector Vehicles. Second Generation Vehicles, per the AACA rules, are cars that are over Twenty Five years old and were factory built to recreate the original looks of Antique and or Classic Cars. These vehicles can have recreated bodies in fiberglass and have modern drive line and interior amenities. This new classification of vehicles will be accepted for display at AACA shows. Factory Assembled is the criteria for acceptance. Entry's must provide documentation such as manufacturing orders, build sheets or certificates of origins. Contact the Antique Automobile Club of America for full requirements. www.aaca.org
September 2008
Land Speed Record Holder Dies
Marvin Jenkins, son famed Ab Jenkins died Sept. 14th at the age of 88 in Salt Lake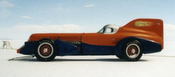 City, Utah. Marvin Jenkins was a pilot and a respectable Speed Record Driver himself. He worked with his father and the Duesenberg Brothers on the 12 cylinder powered Mormon Meteor III. At the time of his death he still owned the Mormon Meteor III, which has held Land Speed Records for the last 50 years
October 2008
Hershey The Sweetest Car Event on Earth
The Antique Automobile Club of America's Fall National Meet, held in Hershey, Pennsylvania, offered Fantastic weather along with Magnificent cars and Acres of parts. This was the 1st year for the New AACA classification for the 2nd Generation Collector Cars. Unfortunately there were not any Auburns displayed in the new class this year. Visit the Road Trips page to read about the show and check out our photo's
November 2008
ACD Museum can benefit from your Web Surfing
I ran across an interesting article in a past issue of Old Cars Weekly. "The Auburn Cord Duesenberg Museum can now earn a penny each time hobbyist search the Internet.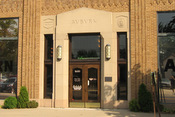 GoodSearch.com is a search engine company that donates half of it's revenue, about a penny per search, to the charities it's users designate. The search engine is powered by Yahoo and will pull up the same quality search results that you are use to, only the museum is earning money every time you search the web."

Go to www.goodsearch.com and enter the ACD Museum as the charity that you would like to support. Just 500 people searching through GoodSearch.com four times a day will raise about $7300 in a years time for the Museum
January 2009
ACD Club's Car of the Year for 2009
The Cord L-29 will be the Featured Car for the Auburn Cord Duesenberg Club's 2009 Annual Me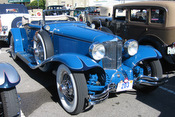 et, held each year in Auburn, Indiana. The Cord L-29 was introduced by Erret Lobban Cord as America's 1st front Wheel Drive automobile. The Cord L-29 became available in the summer of 1929 and production continued through 1931. An estimated 5000 cars were produced. Cord historians feel that only 4-5 percent of these Beautiful Classic Cars have survived. Mark your calendars now and make plans to attend this years event. View the L-29 Cords along with hundreds of other Auburn, Cords and Duesenbergs. Event information is available on the Auburn Cord Duesenberg Club website, www.acdclub.org
February 2009
1937 Cord Back Home Again!
After seventy years, Errett Lobban Cord's 1937 Cord 812 Beverly Sedan has returned to the former Auburn Automobile Company in Auburn, Indiana, now the Auburn Cord Duesenberg Automobile Museum. This Cord is believed to be the last Cord delivered by the Auburn Automobile Company.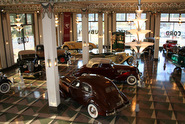 It was delivered to E.L. Cord's Beverly Hills, California Estate, "Cordhaven" in November of 1937. Mr. Cord used the car throughout the 1950's before giving it to his son, Charlie Cord. Charlie Sr. later passed the car to his son, Charlie Cord Jr. The car remained in the Cord family until the decision was made to donate it to the ACD Museum this past November.

This 10,131 original mile Black Supercharged Cord will now be permanently and proudly displayed in the Auburn Cord Duesenberg Museum
March 2009
Barn Find Speedsters
Everyone dreams of finding that Rare and Valuable Old Car that has been locked away and long forgotten about in someone's barn or warehouse. You would think by now that all of these treasures would have been discovered… well that is not the case with two recently discovered Auburn Speedsters.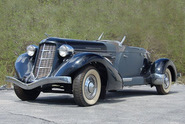 Mark Hyman of Hyman Lt. Classic Cars made one such Speedster discovery while on a trip to California. He discovered and purchased an early 1935 Auburn 851 Speedster. The Auburn has had two previous owners and is said to be in very original condition. Now he only has to decide what the future holds for this find. You can view his Rare and Exceptional Classic Cars that he offers for sale in his 35,000 sq. ft. St. Louis Showroom and Restoration Facility at www.hymanltd.com

Another Auburn Speedster Barn find was recently purchased by Johnn
y Pascucci, of Johnny P Classic Cars located in Meriden, Connecticut. This particular Auburn is a 1936 852 Speedster. This car has not seen the light of day since the mid 1950's. Johnny Pascucci has owned many Speedsters over the years so he is more than familiar with his recent find. You can view over 30 photo's of this Auburn on his website. www.johnnypsclassiccars.com. The last time we spoke, Johnny had plans to refurbish the Auburn as a Survivor and enjoy it for a while as is... a Barn Find
March 2009
Auburn Speedsters in the Movies
If you are like me, you just can't get enough of a Good Thing. I like Driving Au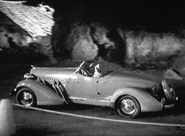 burn Speedsters, I like seeing other Speedsters displayed at shows, reading about them and drooling over photo's of them. Thanks to all of the research that has gone into a really neat website, www.imcdb.org. I am now able to track down the movies that Auburns have appeared in, dating back to when they were New Cars. The website, "Internet Movie Cars Database", allows you search by vehicle to see what movies they have been used in. Needless to say ACD cars have appeared in many movies, past and current. Just be warned, once you find the movie listings you will then start searching for these old movies to add to your collection... It is a sickness I know. I just hope that they never find a cure for it
May 2009
ACD Club Classification, now 2nd Generation Cars
At the March Board of Directors meeting of the Auburn Cord Duesenberg Club. A motion was made an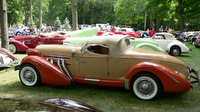 d voted on to rename the "Replica" classification for shows. Replica ACD cars displayed at the 2009 Auburn Indiana National Meet will now be referred to as "2nd Generation" Cars. The Antique Automobile Club, last year, also created guide lines for a 2nd Generation Car classification. AACA guide lines are more defined than the ACD clubs at this time.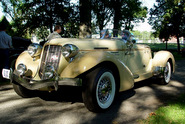 This years ACD Club's National Meet and the ACD Festival will again be held over the Labor Day Weekend in Auburn, Indiana. It is not too early to start planning your trip. Hotels fill up fast in Auburn but there should still be plenty of vacancies in nearby Fort Wayne. There is no other show quite like Auburn. The event takes place over 5 days, the ACD Clubs Classic Car Show is Saturday. Bring your car... better yet drive it to Auburn, display it in the show, drive it in the Parade of Classics. Visit our Road Trips & Travel page to view photo's from last years show. Use the following links to start planning your trip now.
ACD Meet Information - ACD Club - ACD Festival - Auburn Cord Duesenberg Museum
June 2009
Speedster Motorcars Builds the Green Machine
The Green Machine is the Worlds First Electric Cord. The Green Machine utilizes Speedst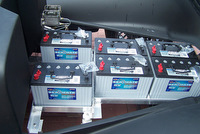 er Motorcars N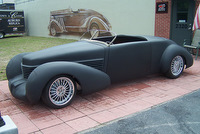 ew Coffin Nose Cord replica body, inspired by the 1937 Cord. This is the company's first electric vehicle. The Cord is powered by a TransWarP 11 Electric Motor and uses Speedster Motorcars Generation III chassis. There is no doubt that this Cord will draw a lot of attention and questions where ever it goes. Speedster Motorcars, Jeff Akins, has provided plenty of photo's chronicling the Electric Cord project. Follow the build of this very unique Cord by visiting their website: www.speedstermotorcars.com
July 2009
"2009 Ault Park Concours d' Elegance"
Celebrating it'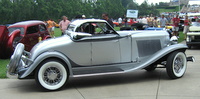 s 32nd year, Cincinnati, Ohio's Ault Park Concours d' Elegance was another success. This years event honored "Excellence in German Design and Engineering" with 5 classes for these Cars. There were 13 other judged classes for Automobiles dating back to Brass era Antiques, Cars with Full Classic status, Muscle Cars, Sports and Racing Cars and today's Supercars. There was a Special emphasis on the 100th Anniversary of Morgan Automobiles. This year's Show fielded 200 World Class Automobiles. The Concours was held Sunday, June 14th. The scheduled events began on Friday with Seminars, Driving Tours, Garage Party's, plenty of Cocktails and hors d' oeuvres and the Awards Banquet. View our photo's from this years event on our Road Trips page
July 2009
"Love Among the Steele"
In the NBC Television Series, Remington Steele, an Auburn Speedster starred in several episodes. The Auburn appears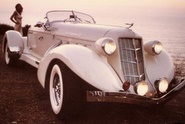 to have been built by California Custom Coach . The Remington Steele series was a Crime and Mystery / Romantic Comedy. It aired from 1982 -1987. Private Investigator, Remington Steele was played by Pierce Brosnan in his pre-"Bond... James Bond" days. He co-starred with Stephanie Zimbalist who played the role of Laura Holt, the owner of the Detective Agency. The Auburn was introduced in Season 2, Episode 7: "Love Among the Steele". The Auburn is a mysterious car that tries to run them down. The car is later found to be tied to murder and mystery. The car is stolen, chased, shot at and disassembled in this episode. Remington Steele being a Nostalgic Hollywood Movie Buff falls for the Deco Styled Auburn and it is purchased for the detective agency. The Auburn would later appear in many future episodes. The Remington Steele series is available on DVD or can be viewed for free on internet Television and Movie sights such as www.hulu.com
August 2009
"Nice Antique Store Find!"
An ACD Club members 1956 Avon, Pennsylvania National Meet Photo Album has surfaced and is being offered for sale. View a few of the 100+ photo's. 53 years later, how many of these ACD Classic Cars will return to Auburn for the 2009 National Meet...
September 2009
Auburn Indiana Home of the Classics
The Auburn Cord Duesenberg Club held their National meet September 3rd through the 6th in Auburn, Indiana. The ACD Club has held their meet annually in Auburn since 1955. The event,
including the Kruse Collector Car Auction, can draw an estimated 150 - 200,000 enthusiasts from around the world. If you own an ACD Car or have ever dreamed of owning one, you must make the trip to "Auburn". My first time was in 1978. I was 21 years old. I met Gordon Buehrig and Glenn Pray that year. Needless to say, I was hooked. I have returned almost every year since. The Featured Car for 2009, was the Cord L-29. The L-29 turned 80 this year. Along with the L-29's were hundreds of other Cord's, Auburn's and Duesenberg's. This was the first year that the ACD Clubs Saturday morning Car Show was open to the public. You do not have to be a Member of the ACD Club to attend Auburn, but it does offer many more opportunities to enjoy the event and meet the people who own the cars. It is the membership that makes this show the Classic that it is. If you decide to attend next years show, use this link, ACD National Meet Information, to help plan your trip. View the photo's of this years Show and read about past Auburn Shows on the Road Trips page. I hope I see you there next year
October 2009
AACA Hershey Meet Celebrated 54 Years
Considered by m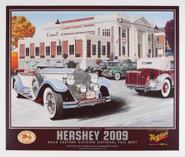 any, myself included, to be the Daddy of the Collector Car Events. This years Hershey dates were October 7th - 10th. The event is hosted by the Hershey Region of the National Antique Automobile Club of America (AACA). The Show is held in Hershey, Pennsylvania on the property of Hershey Park. The 1st meet was in 1955 and there has been an annual gathering since. The Event draws enthusiasts from around the world. The Saturday morning Car Show had 1500 plus Quality Cars displayed and awaiting AACA judging. If you need parts, you can start shopping on Wednesday at one the 9000 vender spaces. While attending the show do not miss the AACA Museum. It was years in the planning and is a Must See. The Hershey - Lancaster area is Beautiful, especially during the Fall Season. Make this one of your annual Road Trips if it isn't already. Like they say... All Roads Lead to Hershey! View our Hershey pictures
November 2009
Road Trip Worthy Museums
Not exactly ACD related, but definitely of Interest... We recently visited two Car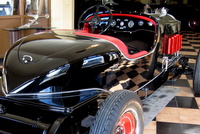 Museums honoring two American Icons. One being The Citizens Motorcar Company - America's Packard Museum located in Dayton, Ohio. The Birth Place of Aviation is Dayton's Claim to Fame, but to the Classic Car enthusiast, Dayton is home to America's Packard Museum. At the corner of Ludlow and Franklin Streets the Packard Motor Car Company lives again. The Museum building was a former Packard dealership in 1917.

We also visited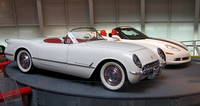 The National Corvette Museum in Bowling Green, Kentucky. The National Corvette Museum celebrated it's 15th Anniversary this past September. The Museum tells the story of the Corvette and the Love Affair with America's Sports Car through the use of Beautifully detailed exhibits and displays. Earlier this year the Museum completed a 46,000 square foot expansion, which included the long awaited Corvette Research Center, Library and the Corvette Cafe.

Both Museums are quite impressive and worthy of your next Road Trip. To view photo's and read more about these Great Museums visit our Road Trips and Travel pages
January 2010
Auburn Speedster - Hot eBay item
While surfing eBay the other day I found a Second Generation Auburn Speedster being offered for auction with an opening bid of a Hundred Bucks. "Click" I wanted to see more. There were plenty of pictures to view. Unfortunately the Speedster had been on fire at one time. The eBay seller was kind enough to let me use some of his photo's of the car. There are a few parts of interest that could be salvaged... but what a shame. Click Here! More photo's are available
February 2010
New Website Honoring Glenn Pray
A New Glenn

Pray website, www.glennpray.com, has just been launched. Greg Bennett is the webmaster. It is still being developed but it is worth the visit. The site will include an Events page, About Glenn Pray, Cars for Sale and the The Glenn Pray Auburn Cord Group's Registry. The Registry is still looking for owners of Glenn Pray Built Cars. Many cars have already been located. The Registry includes 79 of the 113 Auburn 866 Speedsters, 71 of the 97 Cord 810's and 11 of the 17 Auburn 874 Dual Cowl Phaetons, including the Prototype. If you own a Glenn Pray Built Auburn or Cord and are not included in the Registry please contact Felix DeGeyter, he is the registry's Auburn Cord Historian. Email him at felixdegeyter@yahoo.com
February 2010
Jim Brockman Collection ACD Club website
Browsing through the Auburn Cord Duesenberg Club website over the Holidays,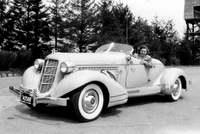 I ran across a couple of items of interest. The first being the wonderful collection of vintage ACD photographs that were so generously don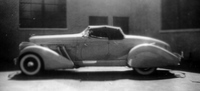 ated by Joyce Brockman. The photo collection belonged to her late husband and long time Canadian ACD Club member, Jim Brockman. Jim was known as the ACD Canadian Historian. The collection of photo's date back almost 50 years. ACD Club member, Mike Huffman was kind enough to scan the hundreds of vintage photo's so that they could be posted on the club website. Actually Jim has earned his own page, The Jim Brockman Collection. Use this link to view all of his photo's.

Another new addition to the ACD Club's website is the Reunion and Meets page. It takes on a totally new look with great graphics and photo's. I hope this is a preview for the future look of the entire website. From this page you can read about the ACD clubs history, view photo's from last years meet, keep track of up coming ACD events and more. Nice work Guys!
March 2010
Speedster Motorcars Auburn Sets Sail
Mike and Jeff Akins of Speedster Motorcars are in the News again. They just recently completed a Special Order Auburn Speedster for Royal Caribbean Cruise Line's newest Cruise Ship, the "Oa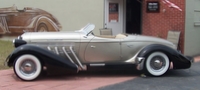 sis of the Seas", it is the worlds largest cruise ship. The Oasis and the Speedster Set Sail this past December. The Auburn was special ordered in Champagne and Black, one of Speedster Motorcars most popular color combinations. The Auburn is displayed on the Royal Promenade deck. Like Auburn Speedsters always do... it has been drawing admiration and good press from all who have seen it. Cruise line owners were very impressed with the attention to detail and workmanship that went into building the Speedster. Like the "Oasis of this Seas", Speedster Motorcars Auburn is a Modern Day Classic
March 2010
Auburn Speedster Rental Cars
The next time you need a Rental Car and are looking for something a little different... Why not Rent an Auburn Boattail Speedster. You may also want to consider renting one if you have plans for a future purchase in the works. Cruising around in one of these Modern Day Classics just might seal the deal for you.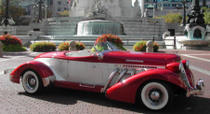 If you decide to check on an Auburn rental they are as close as a Google search. My quick search showed the Beverly Hills - Hollywood area of California was offering the best selection of Auburn Speedsters for lease followed by Las Vegas. Why was I not surprised by these two results... I also found available Speedsters in the Boston area for Weddings and Special Occasions. The majority of rental cars being offered seem to have been built by Speedster Motorcars. A Rental is a great way to Gauge first hand just what the Auburn Speedster experience is all about
April 2010
About E.L. Cord
I had a friend of mine turn me onto a new website, about Errett Lobban Cord, "Cord Her

itage". The website is operated by Errett Lobban (E.L) Cords great grandson, William Cord. I believe it is fairly new, and so far, quite impressive. "Cord Heritage" will tell the story and highlight the achievements of a young American Industrialist journeys and accomplishments within the Golden Age of transportation. As we all know, E.L. Cord operated successful Automobile and Aviation companies. Along with his transportation ventures, Mr. Cord also achieved great success with Radio Broadcasting, Marine and Mining industries and Real Estate investments. "Cord Heritage" will update throughout the year with details of these accomplishments. William Cord and his team offer Art and Limited Edition items for sale in the Cord Collection. These items highlight the successful endeavors of E.L. Cord. Look for New Releases at www.cordheritage.com
June 2010
Mecum's Indy'10 Spring Classic was a Duesy!
Celebrating 23 years, the Mecum Spring Classic Collector Car Auction again lived up to it's reputation. Now being advertised as the largest Collector Car Auction in the World, with 1750 Vehicles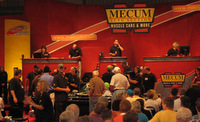 rolling across the auction block over 5 days. The Annual Event is held at the Indiana State Fairgrounds in Indianapolis, Indiana. This years event ran from May 19th - 23rd. Offered along with cars were Antique Tractors, two Beautiful Classic Wooden Boats, Hundreds of Vintage Signs and Neon Advertising. Two cars of particular interest for us ACD Guys were the Coffin Nosed Cords produced by Speedster Motorcars. Both cars were No-Sales but they drew Big Bids, one closed at $155,000 and the other one commanded a more than respectable $145,000. These two No-Sales were exceptions. Throughout the day the auctioneers could be heard screaming SOLD" SOLD" - SOLD Another One". This Auction has become an annual Road Trip for us. It is a Great Event. I would definitely recommend one of Dana Mecum's auctions. Visit their website for Mecums 2010 schedule and view photo's and the results from Indy'10. www.mecum.com
July 2010
A Small Town that has Escaped Time
It is a small to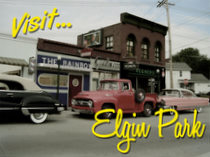 wn where Chrome and lots of it, is found along with "Stylish" Cars Rolling on BIG Whitewall tires. As a matter of fact only OLD Cars are allowed on the streets of Elgin Park. You will not find Elgin Park on any map. This small town was created by Michael Paul Smith. This is the kind of place that only seems to exist in memories and on the pages of photo albums. Elgin Park is a 1:24th scale collection of Automobiles, Streets and Buildings. This wonderful town lives through Smith's life-like photos.

Visit Elgin Park, seeing is believing. I have been there with family and friends several times this year. We didn't spot any ACD Cars while there, but I bet there are some stored away in one of those back street warehouses or alley garages. Let me know if you see any nice Speedsters being offered for sale. www.visitelginpark.com
July 2010
Breathless Mahoney's Auburn Speedster
From the 1990 Dick Tracy Movie, Ms. Mahoney's Auburn Speedster is being offered for sale. This 2nd Generation Auburn Speedster was custom built by Hol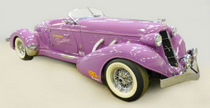 lywood Car Customizer, Geo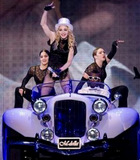 rge Barris, for Walt Disney Studio's. The movie was directed by Warren Beatty who also starred in the film as detective hero, Dick Tracy. Detective Tracy's girl friend, Breathless Mahoney, was played by Madonna. She drove this Auburn throughout the movie. The Auburn is finished in "Rasberry" with a light saddle interior. The car appears to have been manufactured by California Custom Coach. The Queen of Pop also has ties to another Auburn Speedster. A white Auburn was used on stage throughout her 2008 "Sticky & Sweet Tour". I have never seen any other information regarding this car. The Breathless Speedster was last offered at auction in 2005 where the winning bid was recorded as $52,900. The car is currently being listed for sale by the Dezer Collection, Museum and Pavillion located in Florida. Use your two way Wrist Radio-Television and give them a call or visit the website, www.dezercollection.com for more photos' and information
August 2010
What Happened to Style
"Arrive in Style", "Turn Driveways into Runways" No these quotes did not come from E.L. Cord's office, or t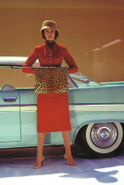 he design rooms of Alan Leamy, Alex Tremulis or Gordon Buehrig. These were taken from a 4 page Chrysler ad that asks "Whatever Happened to Style?" I have been asking myself this for many - many years now. I really do not think America's Love Affair with the Automobile is over. It is just that there are not many, if any, automobiles being offered to fall in Love with. Today manufacturers pride themselves with cars that can Self Parallel Park, brag on Cap-Less Gas Fill Doors, Dash Cams, Eco-Green Power, Radio's that can do everything that NASA could do 10 years ago and receive hundreds of satellite stations. I was pretty happy with my choice of 5 AM-FM radio pushbutton selections… Today's Automobile does not possess the Passion, Art, Color and Imagination that once was there. Chrysler's advertisement asks the right questions and makes some needed points…

At One Time We Arrived in Style, We didn't Race from A to B – We Cruised, People Took Notice – Cars Turned Heads, Pride was a Wonderful Thing, Going for a Drive was a Big Deal, Lets Design Cars that People Want to Make Out in again, Lets Design Cars that People want their Photo taken with, It's Time to Put Our Right Hand at 2 O'Clock and Our Left Elbow Out the Window, Where has the Glamour Gone? "It's Time Once Again, For America to Arrive in Style"

Pay attention Ford and Government Motors. Thanks Chrysler! I feel much better getting all of this off my chest, Just one of the perks of having your own website...
August 2010
Motor Trend 1952... The beginning
A small ad, seeking like minded people interested in the preservation and in sharing knowledge of Auburn, Cords and Duesenbergs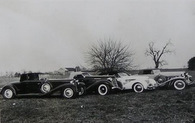 was placed in a 1952 edition of Motor Trend Magazine by Harry Denhard. That was all that was needed. The Auburn Cord Duesenberg Club was founded that year. The inaugural meet of 1953 was held in McClain, Pa. with only three Cords attending. The following year's event drew 19 cars in Wesport, CT. For 1955, the meet was moved to Avon, Pa. Interest and participation continued to grow. For the 1956 meet, the idea of establishing a Reunion Meet in Auburn, Indiana was born. The line of thinking was that the show would be a reunion ACD cars celebrating the Past and Honoring the Auburn Automobile Company Employees and the Families of those who assembled these cars. That same year the Parade of Classics was introduced. It would become an annual tradition that continues today, 55 years later… Today the ACD Clubs National Meet is referred as "The Reunion"
August 2010
Auburn Indiana - Home of the Classics
It is not too late! Pack a couple of bags, toss them in your Speedster and get on the Road to Auburn, for the Auburn Cord Duesenberg Club's National Me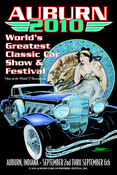 et. You do not have to be an ACD Club member to attend this event. The event is held each year in Auburn, Indiana over the Labor Day weekend. Auburn is known as the Home of Classic Cars. The ACD Club recognizes and welcomes your Second Generation Auburns, Cords and Duesenberg Cars. Touring starts early in the week. The ACD Only Parts Swap Meet is on Friday followed by the Car Show on Saturday ending with the Parade of Classics through downtown historic Auburn that afternoon. The feature car for this years event is the Model J Duesenberg. There are Special Duesenberg exhibits and events planned. At last count more than 50 Duesenbergs have registered to participate in the Duesenberg Exhibition of Speed. Expect three Collector Car Auctions to take place, World Wide Auctions with "The Auburn Auction", RM's Auction America and the Classical Events Auction. The Swap Meet will also continue on the old Kruse Auction Park property. Hotels and Motels fill up Fast in Auburn, but you can always find lodging in nearby Fort Wayne. Read the article below, for some insight into this years event
August 2010
Kruse Auction Park Sold!
The Kruse Auction Park in Auburn, Indiana has been sold to, Auctions America, a subsidiary of RM Auctions. Canadian based RM Auctions is a leading Collector Car auction company. There was speculation that the traditional Auburn Classic Car Auction, held in conjunction with the Auburn Cord Duesenberg Festival each Labor Day weekend, would not be happening this year, thus ending a 40 year tradition. RM announced that there "WILL BE" a 2010 Auburn Collector Car Auction and they are now taking consignments.
Long time auctioneer, Dean Kruse started his annual Auburn Classic Car Auction in 1971. The original auction was held in an empty field, later they would move to a high school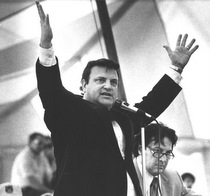 stadium. His Auburn Classic Car Auction continued to grow and would later be promoted as the largest Collector Car Auction in the World, advertising 5000 cars being offered for sale. Dean Kruse eventually would build and complete his dream auction park in 1989. Located right off of the I-69 exit to Auburn, the Kruse Auction Park consisted of 230 acres, and was the location of Kruse International's World Headquarters. With the great success of his company, ebay took notice. They purchased the Kruse Auction company is 1999, keeping Dean Kruse on to over see the transition. ebay never quite got it right, it was not the same as when Dean was at the wheel. Four years later, ebay would sell the company back to Dean Kruse. Kruse immediately made many needed changes to the Fall Auburn event. Things were better than ever with Kruse in charge again.

According to automotive and business press, the past 12-18 months have not been good for this once successful company. The failing economy was to blame according to Dean. Dean Kruse said in a new conference, held right after the sell to RM of his Auction Company and Park, that selling to his long time friends at RM Auctions was the right thing to do at this time.

This years Auburn Labor Day Event, will now have three Collector Car Auctions taking place. The above mentioned RM's Auctions America, the already established Worldwide Auctioneers with "The Auburn Auction" and another new player, Classical Events Auction. Consign your Collector Cars now and bring Plenty of Money to Auburn to help Stimulate the Economy.

Check with the The Auburn Cord Duesenberg Festival for a complete listing of festival activities, September 2nd -6th, 2010
August 2010
Duesenberg Exhibition of Speed
50 Duesenbergs Expected!
Remember this date, Friday, September 3, 2010. This is the opening day of the Auburn Cord Duesenber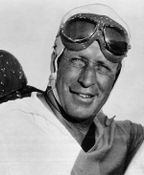 g Club's 55th Annual Reunion in Auburn, Indiana. The Duesenberg J is the honored car at this years Reunion. At one time, the Duesenberg was one of the Fastest Cars in the World. What better way to show tribute to the Duesenberg than creating the Ab Jenkins Memorial Duesenberg Exhibition of Speed. The event's name honors Ab Jenkins, who test-drove Duesenberg cars in the 1920s and 1930s, setting several world speed records. The Exhibition of Speed, will take place that Friday afternoon at the nearby Kendallville Airport. The Duesenberg speed events will be run on the airstrip. As part of the Speed exhibition, there will be a special Fly-In of Antique Stinson aircraft. There will also be a display of Rochester-Duesenberg powered cars. An event of this type is a first for the Auburn Cord Duesenberg Club. The exhibition is expected to receive world wide coverage. ACD Club member, Jim Schneck says "I am Ready to Run them, Are You?"

Use our link, What, Where and When to get a feel for this year's event. Visit the ACD Clubs event website for all of the information regarding the Ab Jenkins Memorial Duesenberg Exhibition of Speed. I do not have anything to Run, but I will be there!
August 2010
The Auburn Swap Meet will Continue!
RM Auctions "Auction America" will continued the Traditional Swap Meet which has bee

n held each year at the old Kruse Auction Park. The Swap Meet opens to the public on Wednesday, September 1st. Interested vendors are invited to contact Nancy Walters by telephone: 260-415-3573 or via her email at nwalters@auctionsamerica.com . Auction America has many upgrades and changes planned for their newly acquired venture. Their mission is to renew the Spirit that has surrounded the Auburn sale for so many years. Visit RM's Auction website for a full schedule of Auburn events. www.rmauctions.com
August 2010
AACA Celebrates it's 75th Anniversary
The Antique Automobile Club of America Celebrates 75 years. The celebration, known as the Diamond Jubilee, was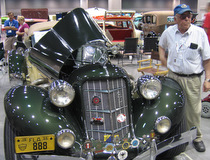 held in Louisville, Kentucky at the Kentucky Fair and Exposition Center. The Hosting hotel was the Crown Plaza. The event started Wednesday and ran through Saturday (July 10-13 2010). The celebration included an Old Fashion Parade ending with Ice Cream, Touring, Dinners, a Paddle Wheel Boat ride on the historic Bell of Louisville and a Car Show on Saturday ending with an Awards Ceremony. Two days of touring included visits at two Collector Car Museums, The Louisville Slugger Bat Museum and Kentucky Distilleries. The Saturday car show drew 700+ cars displayed and shown within AACA guide lines. The newly formed Second Generation classification for Factory Built recreations of Classic Cars included Tom Tomlinson's 1974 Auburn 866 Speedster, built by Glenn Prays Auburn Cord Duesenberg Company. Tom emailed me telling me that his Speedster was "mobbed" with people interested in his car. He went on to suggest that we should all have our Factory Built Auburn Speedsters SGVC - AACA Certified. The Auburn Cord Duesenberg Club also recognizes Second Generation ACD cars. I have to agree with Tom. I could not photograph all 764 registered cars in Saturdays show, but I have seven pages of photo's for you to view! Visit our AACA 75th Anniversary Photo Gallery
August 2010
Road Trip Photo Gallery - 4 New Additions!
Be sure to Check Out the two latest Concours d'Elegance Photo Galleries that have been added on our Road Trips and Travel page. In June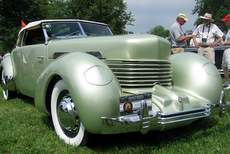 we traveled to the 33rd Annual Ault Park Concours in Cincinnati, Ohio and in July we visited Keeneland Race Park in Lexington, Kentucky for the Keeneland Concours d'Elegance. While you are viewing those pictures be sure and see our photo's from the AACA's 75th Anniversary celebration which took place in Louisville, Kentucky. Over 700 cars were displayed indoors with Air Conditioned Comfort! The Summer has been Hot no doubt, but so has the Car Show Action and there is plenty more to come. This month the National Street Rod Association (NSRA) will be Rolling into Louisville for their National Meet Believe it or not this event draws 12,000 to 13,000+ Street Rods. More are expected this year with cars 25 years and older now being excepted. I will be there snapping pictures, and combing the Swap Meet. I will also be checking out new Hot Rod items that are being offered from the manufacturers that can be used on our Auburn Speedsters. Watch for coverage.

Be sure to Check Out our Photo's from This years Auburn Cord Duesenberg Clubs 55th Annual Reunion!
September 2010
Auction Action in Auburn
With the Kruse Auction Park being sold to RM Auctions of Canada in July, everyone wondered what this years would be like. The traditional Swap Meet and Car Corral continued. There were a few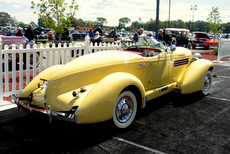 empty spaces found but not enough to hurt anything. I would imagine next year will be a sell out. Judging from the Tens of Thousand Smiling Faces there is no doubt RM pulled off an incredible Inaugural Event. The new auction is known as Auction America. The Auction Park has received many updates, additional paving, new arena style auction seating and many buildings received new paint.

Worldwide Auctions celebrated it's third year as part of the Auburn Festival. It is located just minutes south of Auburn. The event has now grown to three days and offered over 500 Collector Cars. Additional tents were constructed this year and were filled with Beautiful Cars. This years offering seemed to be dominated with Muscle Cars but there were Plenty of other desirable cars to satisfy everyone's interest.

A Third and totally New auction, Classical Events was started this year. I arrived on Thursday but did not have enough time to spend any real time at this auction. I did see some impressive offerings listed including Serial number ONE 1970 Hemi Cuda and several very desirable Ferrari's
September 2010
Auburn 2010 Reunion - Record Breaking Gathering
The 55th annual Reunion of the Auburn Cord Duesenberg Club was definitely a DUESY! Four days of picture perfect weather, hundreds of Auburns, Cords and Duesenbergs along with thousands of Classic Car enthusiast were the perfect mix for this year's Auburn Cord Duesenberg Festival. The Reunion takes place in where else, but Auburn, Indiana. The highlight of this years ACD Club Reunion was Fridays Ab Jenkins Memorial Exhibition of Speed and Stinson Fly-In. The Duesenberg J was the honorary car for this years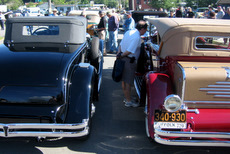 Reunion. At one time Duesenbergs were some of the fastest cars in the world. So what better way to honor them than to let them RUN! The Speed event was held at the Kendallville Municipal Airport. An estimated 3-4000 people made their way to Kendallville to take part in this once in a life time event.

Duesenbergs paraded from Auburn, Indiana under Police escort to Kendallville, followed by the Auburns and Cords. A WWII B-25D bomber, the Yankee Warrior, circled the airport and landed before the Speed Event began. The Duese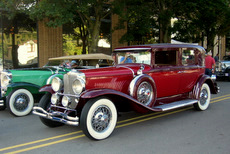 nbergs competed in a series of timed ¼ mile races after several warm up runs for both the cars and their drivers. An event spokesman said that speeds of 75-80 mph were reached. Duesenbergs are capable of top speeds well exceeding 100 mph. Between 1927 and 1936 only 488 Duesenbergs were produced. With today's Duesenberg values sometimes exceeding a Million Bucks you do not see them very often. Seventy One of them were registered for this years ACD Reunion setting a new record for the most Duesenbergs ever to gather at one time, The previous record was set in 1994 with 50 of them attending the ACD Clubs Reunion. An estomated 45 of the 71 registered cars competed in this years Exhibition of Speed. One of the event racers was the Clark Gable car, a 1935 Walston Cabriolet, it is estimated to be worth 5 -6 Million Dollars... yes the current owner made quite a few runs that afternoon. The 1st time I saw this Beautiful Duesenberg was several years ago in Don Williams Blackhawk Collection. Richie Clyne of Imperial Palace Las Vegas Hotel and Car Collection Fame is rumored to have driven his 1931 Duesenberg Judkins Coupe from Las Vegas. That was probably a record in its self

Check out our Photo's of this Duesy of an event!
October 2010
Louisville Concours D' Elegance, Horses and Horsepower
The Louisville Concours D' Elegance was a huge success again this year. It is a relatively new event, now in it's 3rd year, that is growing fast in national recognition and stature. The Concours was held Sunday, October 3rd in the infield of Historical Churchill Downs. What better place to display Classic Automobiles that posses the same Grace and Heritage as the Thoroughbred Horses that have Raced there.

View our Photo's from this years Show
November 2010
Works of Art
While reading through the AACA's Auburn Forum, I ran across a guy inquiring about Auburn Speedster body's... wondering if anyone has or currently does reproduce them in metal. I was not aware of anyone offering the 1935 & 1936 body's but I knew that D&D Classic Automobile Restorations in Ohio have reproduced metal 1931-1933 Speedster Body's. They also offer metal 810 / 812 Cord replacement body parts among other services.

I have seen their samples Art displayed in Auburn by partner-owner, Mark Kennison. D&D Classics has a staff of over 20 skilled craftsmen. All of there work is impressive, with the most impressive to date being the recreation of the Lost Cord Show Car, the L-29 Cord LeGrande.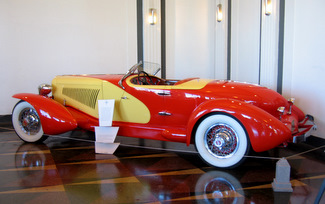 If you have visited the Auburn Cord Duesenberg Automobile Museum in the past few years you have to leave there with memories of the 1931 L-29 LeGrande Speedster in Garish Red and Yellow. This particular Cord is a D&D Classic Recreation of the original Cord Show Car. The original LeGrande 1st appeared at the New York Auto Show. It was purchased after the show by Jean Harlow and her new husband, MGM Executive Paul Bern. They had it shipped to Europe for their Honeymoon. When purchasing the Cord it was agreed that the car would later be shown at the Paris Auto Show. The Honeymoon ended quite abruptly after a spat. The newlyweds came home leaving there L-29 Cord behind. Shortly after retuning the the states Mr. Bern committed suicide and Ms. Harlow remarried and later died in 1937 with no records of ever bringing the Cord back home. It's whereabouts are still a mystery today.

Visit D&D Classics website, the whole story of recreating the lost Cord can be found along with video. The building of the 1931-1933 Speedster Body's is also on video. Maybe someday they will recreate the 1935 / 1936 Speedster body's... www.ddclassic.com D&D Classics, Covington, Ohio

Errett Lobban Cord His Empire His Motorcars: AUBURN-CORD-DUESENBERG
Book by G. Borgeson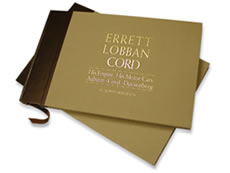 We Still Have Available, this Outstanding Automobile Quarterly Commemorative Marque Book, "Errett Lobban Cord His Empire His Motorcars: AUBURN-CORD-DUESENBERG" The books Luxurious presentation includes 280 over-sized pages containing more than 500 rare illustrations, photographs and documents

These Books are New Old Stock from 2003. They are still in their original packaging. They were priced at $198 in 2003. They have only been opened for inspection. Limited Quantities Available

On Sale! Now Just $44.95 with Free Continental USA shipping. email us to Order your copy while Supplies Last

December 2010
Mike McCoy's Model J Duesenberg Tow Car
Mike McCoy, played by Elvis Presley, in the 1966 movie Spinout, used a Model J Duesenberg to tow his Cobra race car in several scenes of the movie. It was a 1929 Short Wheelbase Model J Dual Cowl Phaeton, one of only two built by Derham.

The Elvis Duesenberg was recently offered for auction at RM Auctions Automobiles of Arizona. The sale took place January 20-2

1, 2011 at the Arizona Biltmore Resort in Phoenix. The Car was to be sold at No Reserve, it had an estimated selling price of $900,000 – $1.2 Million.

After the filming of Spinout, The King of Rock n' Roll supposedly offered to buy the car, but the owner was not interested in selling. Today the car is in Concours condition having been invited to Pebble Beach and just recently on loan to the Auburn Cord Duesenberg Automobile Museum in Auburn, Indiana. I was fortunate to view the car in 2008 at the Louisville Concours D' Elegance. I also had chance to see it again in Auburn while at the Museum this past Labor Day weekend for the ACD Clubs annual Reunion
December 2010
Another Vantastic Speedster
If you happen to own your own sign and graphic shop like Robert Fry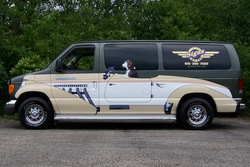 does, it makes creating unique shop vans a little easier. His latest shop van sports a painted 1935 / 1936 Auburn Speedster on the side. This is actually Roberts fourth Speedster-Van. His first was in 1982. The latest one features bright photo prints of original Auburn Speedster trim and a custom two-tone paint scheme. The three previous Speedster-Vans actually rode on the correct 127" wheelbase. This one is a little bigger, but that's OK, they say bigger is better.

The Van Looks Great Robert! Thanks for the photo's. I am sure that the Dog is licensed, but I have One Question... where did the learn to Drive?


Visit www.signsbyfry.com to view more of his work
January 2011
Ab Jenkins Exhibition of Speed Videos now available
The Ab Jenkins Exhibition of Speed Event, which has become k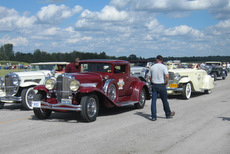 nown as, The Duesenberg Drag Races, took place this past Labor Day Weekend at the Auburn Cord Duesenberg Clubs National Reunion. This was the largest gathering of Duesenbergs ever, 71 cars were reported to have registered for the event with 43 of them participating in the Races. The event was professionally produced and filmed. DVD and Blu-Ray HD Video Preorders were taken the day of the event and of course I was right there in line "Please Take my Money! Please!

My DVD arrived a couple of days before Christmas, that would be Christmas Eve–Eve around my house. I immediately took it for a test drive and was quite impressed. Over the Holidays I made sure that several visiting family members had to chance to view it, like it or not… how could you not like watching 45 minutes of Duesenbergs.

The video is extremely well done. I recommend that you pick yourself up a copy of this Once in a Life Time Event. Videos are available from the Auburn Cord Duesenberg Clubs website, www.acdclub.org There is also a Event Photo CD available. These would be great belated Christmas Gifts to you
February 2011
Miami Beach Art Deco Weekend
I reluctantly had to turn down two WARM invitations to Florida during the COLD month of January, both offers were to Miami. One of the Miami trips included the Miami Beach Art Dec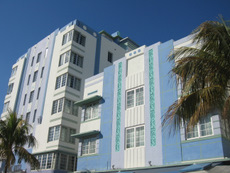 o Weekend celebration. I have been wanting to attend this event for the last couple of years. As always, too many places to go and too little time (and money) to do it all.

"Selling Glamour and Style", was the theme for the 34th Annual Miami Beach Art Deco Weekend held January 14th – 16th 2011. A couple of my friends did make the trip and were kind enough to share their photos.

The event takes place on South Beach in the Historic Art Deco District between 5th and 15th street on Ocean Drive. Lining Ocean Drive over looking the Atlantic Ocean are Beautiful examples of Art Deco Hotels and Restaurants. The events include hotel tours, live music, vendors, guest speakers, a parade, and a Car Show on Sunday courtesy of the South Florida Region of the Antique Automobile Club of America (AACA).

Art Deco is considered a 20th Century Architecture style that later expanded into the design of our everyday products. (read more)
March 2011
Feeling Like a Million Bucks... We Arrived in Style... Once Again...

View Chrysler's Latest Commercial on You-Tube. I liked it, I bet you will too!
March 2011
Night at the Museum
New for 2011, The Auburn Cord Duesenberg Automobile Museum is offering "Night at the Museum". Each Thursday they will offer extended evening hours and Free Admission to a Car Club each week. It was only fitting that on January 6th the Auburn Cord Duesenberg Club was the first club to be offered this special invitation by the Museum. www.automobilemuseum.org
Glenn Pray
1925 - 2011
The Man Who Brought Legends to Life; Glenn Pray, President and Owner of the Auburn - Cord - Duesenberg Company for the past 50 years, passed away on March 23rd. Services were held at Christ United Methodist Church, 3515 S. Harvard, Tulsa, Oklahoma on Monday March 28th at 11:00 am. Cards and Condolences can be sent to 122 S. Elm Place, Broken Arrow, Oklahoma 74012
April 2011
"Back Home Again To Indiana"
An Invitation to Cord 810 and 812 owners; The 1936 Cord model 810 celebrates 75 years. Being coordinated by Auburn Cord Duesenberg Club Members Bob Coleman and Josh Malks, "Back Home Again to Indiana" will be a convoy of 810 and 812 Cords to Auburn, Indiana for the ACD Clubs National Reunion held over the Labor Day Weekend, September 1st thru the 4th 2011. The tour is designed to leave from any place, USA and join the tour at designated meeting points. Participating Cords will all arrive at this years National Meet together. For those Cord owners Who Have Never Relished the Common Place, More Cord Convoy information is available at: www.cordconvoy.com
April 2011
1936 Auburn Speedster
By Russell G. Simmons
My father said he would buy me a car if I would not smoke or drink until I graduated from Augusta Military Academy in Fort Defiance, Va., in 1946. I passed the test, so for $600 he bought me a 1936 Auburn Speedster from a neighbor across the lake in the Guilford College area, where I grew up.

The Canary Yellow Speedster was built by the Auburn Cord Duesenberg Co. of Auburn, Indiana. My neighbor had bought it for his wife and said it had once belonged to actor Tyrone Power, who starred in films such as "The Mark of Zorro" in 1940.

I drove the supercharged Auburn around town. It had a straight-eight engine and could go well over 100 mph. It went with me to the William R. Moore College of Technology in Memphis, Tenn., where I went to study the lumber industry in 1948. When I joined the Navy in 1950, I drove the Auburn to Atlantic City, N.J., where I was stationed.

In 1954, I wanted to get married and needed $600 to purchase the engagement ring. So I sold the Auburn for the same price my father had paid for it. I now refer to it as the "triple faux paux," as I no longer have the car or the wife, and missed out on $250,000, the amount an Auburn sold for at a recent auction.

Russell G. Simmons leans on the 1936 Auburn Speedster that his father bought for him in 1946. The above story Courtesy of the News and Record (Greensboro, N.C.). I found it on one of their websites, TriadCars.com. Russell G. Simmons, 84, still lives in the Guilford College area of Greensboro.

Does anyone know who may own Mr. Simmons Speedster now?
May 2011
Auburn-Cord-Duesenberg Co.
Parts Inventoried
After 50 years Glenn Prays collection of NOS Parts at his Auburn-Cord-Duesenberg Co. has finally been sorted and inventoried. Glenn bought the "Auburn-Cord-Duesenberg Co." from Dallas Winslow in 1960 with the intention of having an endless supply of parts for his Auburn and Cord restoration business. Mr. Winslow had purchased the Auburn Automobile Company in 1937, which included Cord and Duesenberg. Glenn Pray's purchase of the company is a story in its self. The book; "Glenn Pray - The Man Who Brought Legends to Life" tells it best.
When Glenn Pray bought the ACD Company he not only purchased an estimated 600,000 - 700,000 pounds of original parts he also acquired the rights to three of the most recognized names in the world of Collector Cars; Auburn, Cord and Duesenberg. Tons of small parts were wrapped and packed into thousands of beer boxes. The boxed parts, sheet metal and trim were shipped from Auburn, Indiana to Broken Arrow, Oklahoma. Pray had set up a building (a former Pickle Factory) in Broken Arrow to start his newly acquired company.
Parts were sold and used as needed for restorations, but the spare time and manpower needed to actually inventory everything that had been purchased was never available. Glenn's long time friend, Felix De Geyter, was hired in 1963 as the parts manager. When Felix left in 1966 he estimated there were still 400-500 boxes that had never been sorted. By then Glenn had started building the Second Generation Cords and his Auburn 866 Speedster was already in the planning stages. Again, the time needed to inventory parts wasn't there.
At Glenn's 50th Anniversary Celebration, held in May 2010 at the Factory, renowned Duesenberg Historian - Randy Ema and Doug Pray...
June 2011
H
ot Red Heads at Ault Park Concours
This years Ault Park Concours d' Elegance celebrated it's 34th Anniversary. "Red Hot Rides" was theme this year with Ferraris leading the pack. The event was again held in one of the Queen Cities Crown Jewels -Ault Park. The show benefits the 13,000 children with Juvenile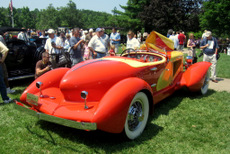 Arthritis in the Cincinnati area through the Arthritis Foundation. Sunday, the day of the Concours,
was Blessed with Gorgeous weather; Sun, a Light Breeze and in the 70's. Guest enjoyed a display of 200 plus Collector Cars from across the United States and Canada. On exhibit were Classic Cars, Sports and Exotic Cars, Muscle Cars and Motorcycles. Special Displays included Antique Fire Engines, the 100th Anniversary celebration of the Indianapolis 500, the 50th Anniversary of the XKE Jaguar and an 85th Anniversary Iconic tribute to Route 66 with the most American of vehicles, the Station Wagon, entitled "Wagons Ho".

Before the Sundays Concours, there is the Friday Night Country Club dinner and a Charity auction, Countryside Touring begins at noon on Saturday and ends with a Garage Party and Silent Auction that evening. Next Years featured Marque is "All-American Muscle", showcasing Vintage and Classic Muscle Cars along with a display of Vintage Dragsters and Wooden Boats. Mark your Calendars for the 2nd weekend in June for the 2012 Ault Park Concours d' Elegance.

Until then, you can view photo's from this years event on our Road Trips and Travel Page
July 2011
O
nce in a Life Time Trip - All 9716 miles...
How's this mix for a Road Trip; use one perfectly restored 1935 Auburn 851 Speedster add two very enthusiastic Auburn Cord Duesenberg Club members (man and wife at that) given the mission of "Crossing the USA and Back", sound like Heaven or … I would say Heaven. It is obvious that Mike and Joan Huffman felt the same way. They have owned their Auburn Speedster, known as "Blackie" for many years. Mike is responsible for the Beautiful Condition that the car is in today. Their Auburn is a regular at many ACD Club events throughout the year.

The trip began in their home state of Michigan on April 5th at 9:00 in the morning, it would be completed 52 days and 9716 miles later. The Florida ACD Club Citrus Meet being their first planned stop. Their next destination was to travel northwest so that they could take in the St. Louis ACD Club meet. Using back roads, including the Mother Road - Historic Route 66 when ever possible, Mike and Joan continued west with plans to see Yosemite, Rocky Mountain and Redwood National Parks along with stops in Reno, Vegas and the Bonneville Salt Flats. With a trip like this it's a no-brainer to visit as many Automobile Museums along the way and they did just that. Visits included; The National Automobile Museum's Harrah Collection, The Blackhawk Museum and The Imperial Palace Auto Collections.

One of the many unique elements of this trip was that Joan kept a travel log, with photo's, and posted it on the ACD Clubs website as the trip progressed. You can read in detail about their journey and view the many great photo's of Joan, Mike and Blackie along the way by visiting the ACD Club website.

Actually a trip like this for Mike and Joan is not unusual. It was not too long ago they used there Beautifully Restored L29 to Commemorate the 80th Anniversary of the introduction of E.L Cords new Cord Automobile, the L29. The Huffman's recreated the L29 Promotional Drive from Auburn, Indiana to Beverly Hills, California. The Huffman's Cord Trip is another Great story
August 2011
ACD Club's Reunion Ambassadors
New for this years ACD Club National Reunion was the addition of "Reunion Ambassadors". For those who have never attended the annual Auburn Cord Duesenberg Festival / Reunion or those who have missed the last several meets the many available events can seem overwhelming. Now there are multiple Collector Car Auctions and New Swap Meets spread across the city of Auburn. Other events include an Antique Show, a Cruise Night in downtown Auburn, the traditional Friday morning ACD Club Parts Swap Meet held on the grounds of the original Auburn Automobile Company and the Saturday morning ACD Club's Car Show and Parade. The Reunion Ambassadors can help you plan your trip and hopefully answer some of your event questions. There are Ambassadors for the owners of the following cars; the 810/812 Cords, L29 Cord's, Auburn, Duesenberg and the Second Generation Auburn's, Cord's and Duesenberg's.

Myself and my "Better Half", Shirley, were asked to be Ambassadors to this years Reunion for the owners of the Second Generation Cars. I hope that we were of some assistance to those that we spoke with. We enjoyed meeting and talking with everyone Saturday morning at Eckhart Park.

If you missed this years show and have questions about next years Reunion please feel free to email us. Use this link, What Where and When, to start planning for the 2012 Reunion. While you are making plans... plan on bringing your Auburn Speedster! Tooling around Historic Auburn, Indiana in your Speedster adds a whole new dimension to the enjoyment factor
August 2011
Keeneland Concours d'Elegance
Last month we traveled the Keeneland Concours d'Elegance, which is held in Lexington, Kentucky. I do not need to remind anyone that it has been a hot summer, so I felt blessed to start the day with cloudy sky's and an actual breeze.

The Keeneland Concours d' Elegance celebrated it's 8th year, with Alfa Romeo as this years featured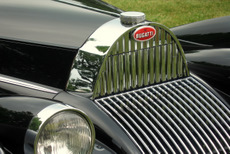 Marque. The event was held at Historic Keeneland Race Park. Keeneland itself Celebrated it's 75th year as a Premier Thoroughbred Horse Racing Course. Alfa Romeo's from across the United States were invited to participate. The Alfa Romeo Owners Club wisely selected this event to coincide with their 2011 National Convention. Along with the Alfa Romeo's, owners of other Classic and Exotic Cars from around the country brought their cars to be judged and displayed at this years Concours. There were 16 Classes with hundreds of cars competing for those coveted Blue Ribbons. Next Years Event will return to Keeneland, July 19th-22nd 2012, with Packard being the featured Marque.

As always I have added (lots of) photo's of this years event to our Road Trips and Travel page
August 2011
More Shows and Road Trips
We have just returned from the Classic Car Capital of the World; Auburn, Indiana where we participated in the Auburn Cord Duesenberg (ACD) Festival and the ACD Club's National Reunion. I will be posting photo's just as soon as I can catch my breath.

I have be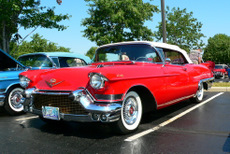 en fortunate (and Busy) to have been able to attend so many Great Collector Car events this year. Last month myself and a long time buddy traveled to the Cadillac & LaSalle Club's Grand National Meet which was held in Columbus, Ohio. Not yet seeing any official numbers... I think that I am safe to Guesstimate 300-400 Cadillac's and LaSalle's were in attendance. The meet began mid-week with the Car Show and a Swap Meet being held throughout the day on Saturday. The weather for the Car Show was blessed with being just about perfect! I know the Big Guy has to drive an Auburn Speedster "Up There" but his back up car must be an Old Cadillac.

The weekend before the Cadillac Meet I was in Michigan taking in two more shows. One being the Lincoln & Continental Owners Club's (LCOC) National Meet that was being held in Pontiac and the Concours d'Elegance of America that took place in Plymouth. The LCOC offered two days of road tours which included Automobile Museums, a Ford Assembly Plant tour and a trip to the Ford Proving Grounds. The meet concluded with a Saturday morning Car Show. Approximately 125 Classic Lincolns and Continentals were proudly displayed.

The Concours d'Elegance of America was held at the Inn at St.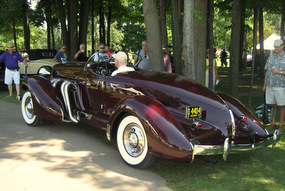 Johns. World Class Auburn's, Cord's and Duesenberg's were just a few of the marques that were displayed on the fairways and greens of the Inn. This is the new location for the Concours d'Elegance of America. For more than 30 years the Concours was held at Meadow Brook Hall in Auburn Hills, Michigan. I have attended the Meadow Brook Concours for years and had reservations about anyone making changes to an already Successful Event. My fears were soon put to rest upon arrival. The Inn at St. Johns sits on 197 acres and is rich in history. Before the attaching luxury hotel and resort status, St. Johns was a Catholic Seminary in the 1940's. The Seminary closed in 1988. Ten years later $11 million was spent to bring the Inn up to its current condition. I am sure that the decision to move the event did not come easily, but the new location not only offers handsomely landscaped grounds but provides an on site hotel, restaurant, conference center and room for future expansion.

Visit our Road Trips page for photo's of our most recent travels, listed above, and many others.

Next Stop is Hershey, Pennsylvania for the Antique Automobile Club of America's Fall Meet
September 2011
Auburn Cord Duesenberg Club's 56th Reunion
The Auburn Cord Duesenberg Club celebrated it's 56th Annual Reunion in Auburn, Indiana over the long Labor Day weekend. This year also marks the 75th Anniversary of the 810 Cord. The Iconic American Classic's popularity is probably stronger today than it was 75 years ago. Front Wheel Drive, Unit-Body Construction, No Running Boards, Hidden Radiator, Disappearing Headlights and a Gordon Buehrig Styled body were just a few of the Modern if not Futuristic Styling and Mechanical features of the 1936 and 1937 Cords. Many of these new Cord features would not be seen on other cars for decades.

Earlier this year invitations went out to owners of 1936 and 1937 Cords to participate in the "Back Home Again to Indiana" Convoy. This all Cord touring event was coordinated by Auburn Cord Duesenberg Club Members Bob Coleman and Josh Malks, The tour was designed to be able to leave from Any Place USA and join the Back Home Again Convoy at designated meeting points. Participating Cords all arrived at this years Reunion together.

Read more about this years ACD Festival and view a few hundred photo's of the Auburn Cord Duesenberg Clubs 56th Annual Reunion and associated events
September 2011
Honoring Glenn Pray in Auburn
The Glenn Pray Auburn Cord Group paid tribute to the late Glenn Pray over the L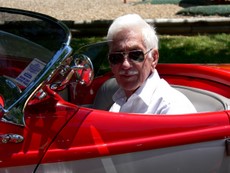 abor Day weekend at this years Auburn Cord Duesenberg Festival. There was a Thursday evening get together at Oscar Roberts restored Sinclair Service Station / Museum and an early Friday night dinner with Glenn's family before heading downtown to the Auburn Hotel and Town Square for the traditional ACD Club's 9th Street gathering. On Saturday morning many of Glenn's Second Generation Auburn's and Cords were displayed in Eckhart Park along with hundreds of Auburn, Cord and Duesenberg automobiles as part of the ACD Clubs 56th Reunion. The Saturday Car Show and Parade was open to the public again this year.

To learn more about the Glenn Pray Auburn Cord Group you can contact Felix DeGeyter. email Felix at: felixdegeyter@yahoo.com

World Wide Auctions offered for sale two of Glenn's cars that same weekend.

At auction was his Restored 1930 L29 Cord

and his Beautiful 1932 Auburn Boattail Speedster
October 2011
AACA Hershey Fall Meet - It was Sweet!
They say Hershey, Pennsylvania is the "Sweetest Place on Earth" if you Love Chocolate and Old Cars... They, (who ever "They" are...) also say that "All Roads Lead to Hershey". From the thousands of Old Car Enthusiasts that show up each year I believe it.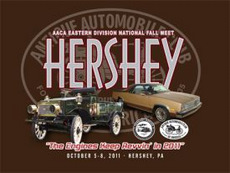 My 1st trip to Hershey was in 1973. My Dad had purchased a new Cadillac Sedan DeVille earlier that year and he was anxious to get it out on the Road. That sounded like a good idea to me. I was 16 years old and armed with a fresh Drivers License. I could hardly wait to get behind the wheel of the Caddy. Our Nations New 55 mph Speed Limit was in effect and while everyone else in the country was cursing the new law, driving at 55 mph was pretty exciting for a 16 year old kid. Upon arriving in Hershey we were greeted with Rain, lots of Rain. The forecast for the entire weekend was Rain. Our First day was spent waiting for a break in the weather, which never happened. By day Two, my Dad and I could not stand it any longer. Armed with umbrella's only, we experienced our 1st Hershey Show... in the Rain and Mud, lots of Mud.

I have attended Hershey many times since and have experienced every thing that Mother Nature has to offer, Good and Bad. This years Show was Blessed with Sunshine, a Clear Sky and Wonder Fall Temperatures. Hershey was definitely the "Sweetest Place on Earth" this year. As always, I snapped plenty of Sweet Photo's. Take a Look!
October 2011
California Custom Coach - The Tradition Continues
California Custom Coach, creator of the Auburn 876 Speedster, built turn key cars and offered kits in the 1970's and 80's. They were located in the Pasadena, California area. During that time a young man living in Geneva, Switzerland, Alex Christodulidis, was quite taken by the California Custom Coach 876

Speedsters Classic Car styling and the modern conveniences that were being built into them. He dreamed of someday owning an 876 Auburn Speedster, but he never dreamed of one day owning the Company.
Fast Forward to 2010, Alex would learn that the California Custom Coach company, with it's patterns, molds, hundreds of blue prints and a large inventory of unused parts was being offered for sale. He did not hesitate, he bought all of it and immediately started a plan to put his dream car back into production.
The tradition continues, but now in North Texas. California Custom Coach (CCC) is back. They are again offering factory built Speedsters and parts for owners of existing 876 Auburns.

From recent conversations with the new owners I can tell that they are excited and very enthusiastic with the companies start up. Their goal is to offer a world class automobile. You can read more about the New California Custom Coach company and their New Auburn at www.california-custom-coach.com They have just recently added a video of their new car in motion. It looks Great! Check it out.
October 2011
Tremendous, Colossal, Lavish and Monumental
The Red Bar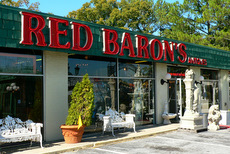 on has very little to do with Auburn Speedsters... unless they are offering one for auction, but it is such a fun and unique place that whenever I am in the Atlanta, Georgia area I have to stop in and view their latest treasures. The inventory at the Red Baron is always so over the top you never know what you will find. I just missed their most recent auction, October 13-15th, not that I would be buying anything, but copies of the auction catalogs were still available. The catalog cover reads; "Tremendous, Colossal, Lavish, Monumental, Copious, Huge and Great" as some of the descriptors used to promote the items that were recently auctioned. That pretty much described everything found in the multiple buildings and outdoor areas at the Red Baron. As always I was packing the camera so I clicked off a few photo's. If you happen to be in the Roswell / Sandy Springs area of Atlanta and love looking at the toys of the Rich and possibly the Famous, then take a couple of hours and visit the Red Baron. www.rbantiques.com
December 2011
California Custom Coach at Vegas SEMA Show
If you fortunate enough to have attended the (SEMA) Specialty Equipment Manufacturing Association trade show in Las Vegas, Nevada last month, hopefully you stopped by and said "Hi" to Alex and Pat Christodulidis, the new owners of California Custom Coach. I heard that they were busy discussing and demonstrating all of the new features of their totally reengineered Auburn 876 Speedsters. Their new Auburn's are now being produced in Texas www.california-custom-coach.com
"Click Here" for some more brief articles
Relating to Auburns, Cords and Duesenbergs
The Man Who Brought Legends to Life

Glenn Pray's book, "The Man Who Brought Legends to Life", has is now into it's third printing. This new edition has added a collage of photo's depicting Glenn, his family, his cars and his airplanes to the inside front and rear covers. The Book is a Great read for anyone with an interest the Glenn Pray Story; his purchase of the Auburn Cord Duesenberg Company and putting the Cord and Auburn Speedster back into production. These Books are available on our website. They are $60, includes shipping and insurance within the Continental USA
email us for your copy
Also available in Paper Back for just $24.00 includes Shipping and Insurance
l

email / Contact us regarding the website


www.auburnspeedsters.com