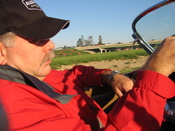 This is the page where you will find a listing of some of my Favorite Car Shows, Concours events, Swap Meets, Collector Car Auctions and Vintage Races. Visit our Road Trips page and read about some of the events shown below. Warning... I usually shoot plenty of Photo's. It won't be near as much Fun as being there, but it's a lot closer and it's Free.
Enjoy the Drive!
Mark

Concours d'Elegance
March; Amelia Island Concours, Amelia Island, Florida www.ameliaconcours.com
May; Keels and Wheels Concours, Houston, Texas www.keels-wheels.com
May; Newport Concours, Newport, Rhode Island www.thenewportconcours.org
June; Greenwich Concours, Greenwich, Connecticut www.greenwichconcours.com
June; Ault Park Concours d'Elegance, Cincinnati Ohio www.ohioconcours.com
June; Eyes on Design, Grosse Point, Michigan
www.eyesondesigncarshow.com
June; Palo Alto Concours d'Elegance, Palo Alto, California www.paconcours.com
July; Mid-Ohio Concours d'Elegance, Lexington, Ohio www.midohio.com
July; Int'l Challenge Concours Road America, Elkhart Lake, Wisconsin www.roadamerica.com
July; Keeneland Concours d'Elegance, Lexington, Kentucky www.keenelandconcours.com
August; Pebble Beach Concours, Pebble Beach, California www.pebblebeachconcours.net
September; Dayton Concours d'Elegance, Dayton, Ohio www.daytonconcours.com
September; The Boston Cup - Boston, Massachusetts www.thebostoncup.com
November; Hilton Head Concours, Hilton Head, SC www.hhiconcours.com

Auto Shows and Swap Meets
Corvette Expo, Knoxville, Tennessee www.corvetteexpo.com
AACA

Central Division's Spring Meet,
May in Auburn, Indiana www.aaca.org
Bloomington Gold Corvette, The Original Corvette Show, Indianapolis, Indiana www.bloomingtongold.com
Auburn Cord Duesenberg Festival, Auburn, In. Labor Day Weekend www.acdfestival.org
Hershey AACA , "Still One of the Best Show's on Earth" www.aaca.org
Iola Old Car Show and Swap Meet, "It is Big!" Iola, Wisconsin www.iolaoldcarshow.com
Turkey Run, Daytona, Florida "Another Big Show" www.turkeyrun.com
Carlisle Events. "Mega Swap Meet, Show and Auction" www.carlisleevents.com
Chevy VetteFest, Chicago, Illinois www.chevyvettefest.net
Woodward Cruise, Detroit, Michigan www.woodwarddreamcruise.com
Pomona Swap Meet, Pamona Ca. www.pomonaswapmeet.com

Two Great Books "On Sale while they last"

AACA

AACA a Shared Legacy - Commemorating 75 years of the Antique Automobile Club of America
Book by Gerry Durnell

This Very Unique Slip-Cased Vault Book is Filled with Pull-Out Artifact copies of Automotive History, especially the History of the Antique Automobile Club of America. The artifacts, including Gasoline Rationing Cards and a letter from President Ronald Reagan and much - much more to help make History Come Alive
Published in 2010 - These AACA Shared Legacy Books are New Old Stock from Automobile Quarterly's warehouse. They are Sealed and in their Original boxes. I believe the original 2010 price was $59.95 Limited Quantities are Available
On Sale Now for $9.85 plus $5.85 for Continental USA shipping. For Shipping outside of the Continental USA please contact us for a shipping cost. email us to Order your copy

Errett Lobban Cord His Empire His Motorcars:
AUBURN-CORD-DUESENBERG
Book by G. Borgeson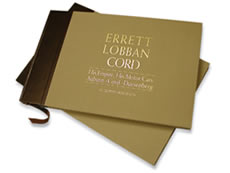 We Still Have Available, this Outstanding Automobile Quarterly Commemorative Marque Book, "Errett Lobban Cord His Empire His Motorcars: AUBURN-CORD-DUESENBERG" The books Luxurious presentation includes 280 over-sized pages containing more than 500 rare illustrations, photographs and documents

These Books are New Old Stock from 2003. They are still in their original packaging. They were originally priced at $198 in 2003. Limited Quantities Available

On Sale Now for $43.95 plus $9.85 for Continental USA shipping. For Shipping outside of the Continental USA please contact us for a shipping cost. email us to Order your copy


Collector Car Auctions
Barrett Jackson, always breaking records, Sold another one! www.barrett-jackson.com
Russo and Steel Collector Car Auctions, www.russoandsteele.com
Mecum Auction, known for High Performance Car sales www.mecumauction.com
RM auctions, "Offering the Worlds Finest Motor Cars" www.rmauctions.com

Vintage Road Racing
Sportscar Vintage Racing Association (SVRA), event listings at www.svra.com
Historic Sportscar Racing (HSR), event listings at www.hsrrace.com
Road America, Great Vintage Racing events, Elkhart Lake, Wi. www.roadamerica.com
Road Atlanta offers SVRA vintage racing events www.roadatlanta.com
Monterey Historic Races - Pebble Beach, Monterey, Ca. www.montereyhistoric.com
Pittsburgh Vintage Grand Prix, Pittsburgh, Pa. www.pvgp.org/pvgp/site/default.asp
Mid-Ohio Raceway, Lexington, Ohio, Vintage Grand Prix Races www.midohio.com